Donate Now!
Make an immediate donation to Santa Cruz Gardens via the PayPal button below (PayPal account not required). Thank you for your support.
AmazonSmile
A new and easy way to support Santa Cruz Gardens every time you shop online at Amazon! Amazon will donate 0.5% of the price of your eligible AmazonSmile purchases to Santa Cruz Gardens Home & School Club whenever you shop on AmazonSmile.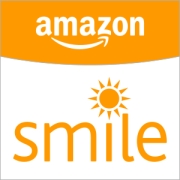 Bake Sales
SCG bake sales are famous for their homemade goodies. These events usually accompany our other events such as Family Fun Nights with proceeds benefiting the 5th Grade Science Camp Fund.
Love to bake? Contact us for how you can help.
Book Fair
SCG hosts the Scholastic Book Fair – a weeklong event, where kids, parents, and family can participate in free events such as Pages & PJs. You can also browse and buy favorite books in the library (and online) for all ages from a collection of hundreds of titles. SCG earns a percentage of the revenue or books and educational materials.
Please contact us for more information.
Box Tops
Earn money for SCG by clipping the box tops from hundreds of products from Ziploc, General Mills, and more. Each Box Top is worth 10¢.
Please contact us for more information.
Dining for Dollars
Take the night off from cooking and meet up w/ other SCG families at Pleasure Pizza, Pizza My Heart, Chipotle, Yogurtland, Shadowbrook, and other restaurants and earn 30-50% for SCG. Dining for Dollars fundraisers happen throughout the year – check our home page, calendar, or Facebook page for the next event.
Please contact Kathleen Schelhorse on how to help.
Drive for Schools/Fall Fund Drive
Our major fall fundraiser combines the annual Toyota/Subaru car drawing with a fall fund drive. We ask families (and friends!) to consider making a donation to the H&SC, and they can either get the value of the donation in car drawing tickets ($25 = 6 tix) or take the tax deduction for the full amount of the donation.
The Santa Cruz Beach Boardwalk and the Capitola Auto Mall Dealer's Group Drive for Schools fundraiser is your chance to win a new Toyota Prius or Subaru Outback (including tax, title and license), or $25,000 in cash. This year, Drive for Schools will be giving away ten $1,000 cash prizes plus over 100 other prizes.
Tickets are sent home with your child in mid-September. Drawing details TBA.
SCG receives 100% of the money collected! Please contact Linda Lambrechts or Tracy Murray for more information.
eSrip (Safeway)
Our school gets a portion of what you spend every time you shop at Safeway. Use your Club Card and please pay with any form of payment that is NOT a credit card. Pre-buying Safeway gift cards with your credit card and then shopping with those gift cards will work! If you haven't already registered your Safeway card, please do so now at www.escrip.com. Our school ID# is 144193342.
Need help? Contact us.
Fall Festival
Games, human-sized bubbles, cool vendors, a rock wall, pumpkin catapult, taco bar, and more! This an afternoon of community fun not to be missed!
Contact us to volunteer or sign up as a vendor.
Local Businesses
Each year, parents who own local businesses in the Santa Cruz area partner with the SC Home and School Club to give back to SCG.
Contact us to learn more.
Papa Murphy's
SCG teams up with Papa Murphy's to sell coupon pizza cards for the SCG 5th Grade Science Trip. Another delicious way to contribute to our school.
Please contact us for your coupons.
Pumpkin Patch
Looking for pumpkins this Halloween? Please consider "buying" your pumpkins at the San Juan Community Pumpkin Patch, located at 718 San Juan Avenue near DeLaVeaga Elementary School. It's run on an honor system/donation basis, and the money you leave in the locked box in exchange for your pumpkins can be donated to any charity (or school) or your choice. Simply indicate with your donation who you would like to benefit. It's a small way to contribute to SC Gardens Elementary School (again, don't forget to designate your contribution), while getting really beautiful pumpkins!
Santa Cruz Warriors Game
See a Warriors basketball game and support our 5th graders' science trip. The best part? Your child is entered into a raffle and has a chance to play some b-ball on the court with their peers in front of 2,500 screaming fans!
Please contact us for details.
Target
Have a Target RedCard? If so, you can enroll for free and Target will donate up to 1% of your REDcard purchases to SCG. Bonus – you get 5% off! If you don't have a card, consider applying today.
Walkathon
Let's get moving! Each year, SCG kids participate in this healthy and fun activity while raising money either as a flat donation or per lap.
Contact us for details.
Friday Treats
Cool off with a delicious popsicle after school on Fridays (minimum days). Parent volunteers from each class sell popsicles to earn money for SCG.
Contact us to get involved.