Upcoming Events:
2023 Drive for Schools Fundraiser

The 2023 Drive for Schools Fundraiser has started and will go through October 20.
This is an annual fundraiser sponsored by the Beach Boardwalk. Students can sell raffle tickets for some great prizes, including a grand prize of $25,000. Students were sent home with paper tickets, and tickets can be purchased by cash, check, or online through this link. If you purchase tickets online, you can complete the ticket stubs yourself, or H&SC can fill out ticket stubs based on information provided with your online payment. Please share the online payment link and QR Code!

Open now until October 20!
Positive Communication & Bullying Prevention Workshop
H&SC is sponsoring an online Parenting Workshop by Kid Power International discussing Positive Communication & Bullying Prevention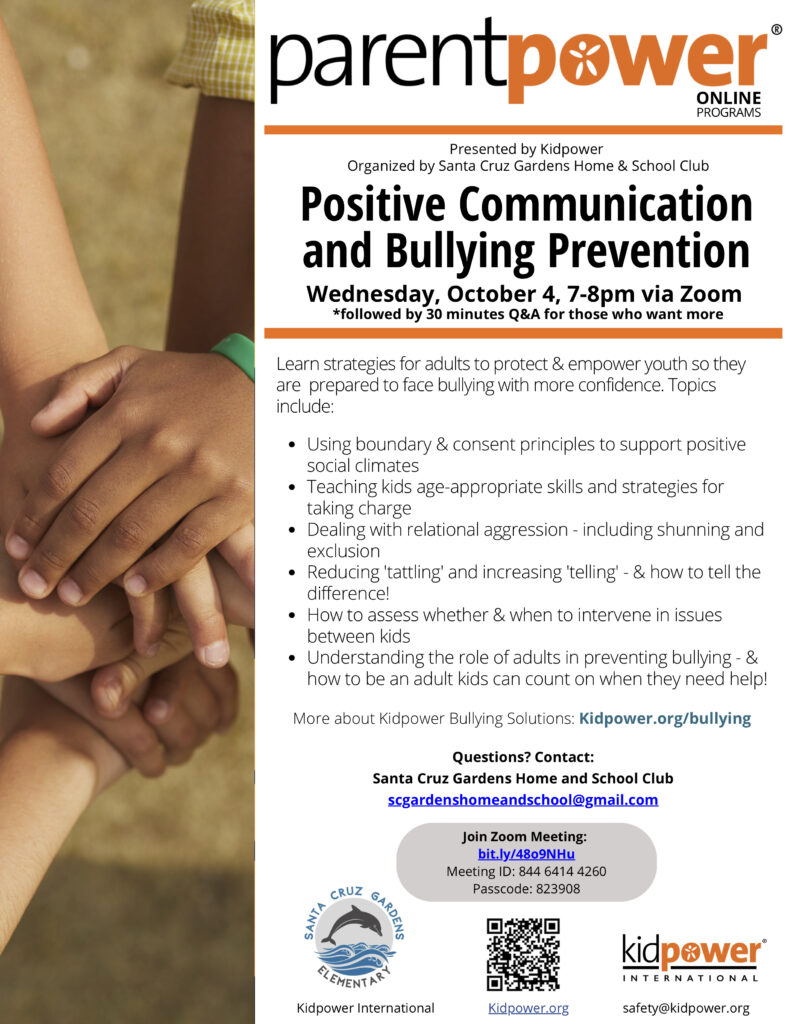 Wednesday, October 4 | 7–8 p.m.
via Zoom
Fall Enrichment Classes start Friday October 6
H&SC Fall After School Enrichment Classes will start on Friday, October 6. We have a fun lineup of classes for students this year. These classes are FREE for all students. Registration forms are due back to the school by Friday, Sept. 29.
Join us for an enrichment class!
Gymnastics
Ukulele
Mindfulness Art
Kids Can Cook
Lacrosse
Who We Are
We are proud parents of students enrolled in the Santa Cruz Gardens Elementary School dedicated to promoting a better understanding and closer bond of cooperation between the faculty and parents. We initiate and/or sponsor projects for the purpose of improving the school. This club is non-profit, non-sectarian, non-discriminatory, and not-partisan. It does not seek to direct the educational policy of the school. All faculty and parents of the school are eligible for membership in the Santa Cruz Gardens Home & School Club.
Meeting Schedule
All parents are welcome to attend our H&SC meetings which are held the last Wednesday of most months from 6:00–7:30 p.m.
Officers
Amy Hsiung (President)
Laura Noland (Vice President)
Allyson Grande (Secretary)
Erika Rosas (Co-Treasurer)
Paras Gupta (Co-Treasurer)

Download bylaws »
Contact the H&SC officers »
Links